Hey Friends!
Absolutely none of you asked for this but I've been making myself recognize the little things that are bringing me happiness in this season of self-isolation and I figured I might as well share them with you all. Maybe you'll try one of my faves or maybe it'll inspire to share some of the little joys you're finding :)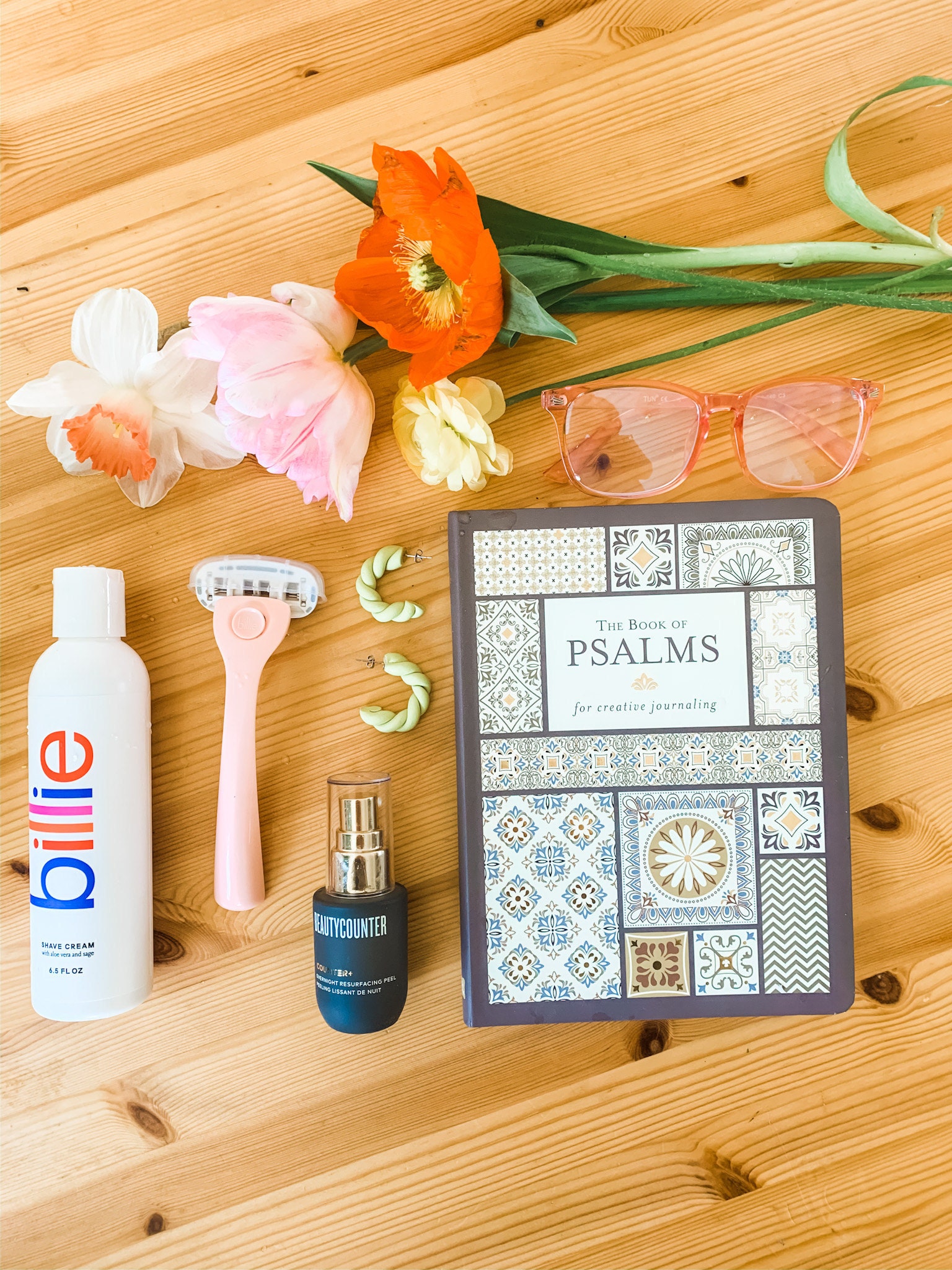 Let's get to it!
1. My little one-year-old has started to mimic giggles and laughs and it just brings SO much joy to my days. We have big laughing fits and I wish I could bottle up all of the sounds so I never lose them.
2.Fruit Snacks. Yep, these have literally been sitting in our pantry for a long time but ever since we've been ordered here in Ohio to stay home, these have been a little afternoon pick-me-up that I've been loving!
3. Ok Office fans(even if you're not a fan of The Office, you'll love this)! Have you seen John Krasinski's "Some Good News" YouTube Channel?! It's dedicated to showing purely good news stories. So incredible, especially in this time! 
4. For those of you with littles, Lovevery is known for selling monthly toy boxes for certain age groups (and I haven't ordered one) BUT! they also have a blog where they give lots of great ideas for engaging learning/growing activities for your kiddos by age group! 
5. Y'all, I finally caved in and tried out the Billie razor and it does in fact live up to the hype. I've struggled for years now with not getting a close shave or always getting razor burn but using this razor and it's shaving cream has been incredible!
6. This Psalms journal is so great. It's like a journaling Bible but only features the Psalms. Which, if you're needing comfort in this season of uncertainty, I HIGHLY recommend grabbing this and resting in it!
7. My twisted hoops are my new staple. The neutral tones are the perfect way to tie up any outfit but the chartreuse...those make a statement! I love wearing these (even on lockdown) because a pair of earrings make me feel put together...even if I'm still in my pajamas ;) 
8. I don't know about you but I've been loving the break from wearing daily makeup and I have been pampernig my natural skin. My overnight resurfacing peel has been saving my skin and making it feel luxurious! (and if you're new to Beautycounter...right now you can get 20% off your first purchase or sign up to become a member and you can get this in travel size as your welcome gift!) 
8. Fresh flowers are my love language. Some people say they're a waste but they bring me so much joy when I have them in our kitchen or living room. It's a dream of mine to have fresh flowers in every room of my home some day! I was able to support a local gardener buy purchasing these (with great social distancing practices) beautiful stems, I got way more than pictured here haha. And Andrew has been picking up a little bunch of flowers every time he's made a trip to the grocery store. I love them. And him! 
9. These $16 blue-light glasses are great, especially if working from home puts you in front of screens for a decent amount of time!
10. And last thing, I've been listening to a "Worship 2020" playlist on Spotify and it led me to so many incredbile songs I hadn't hear before, including this one. 
Ok that's it for now :) What are some little things you've been enjoing these days??